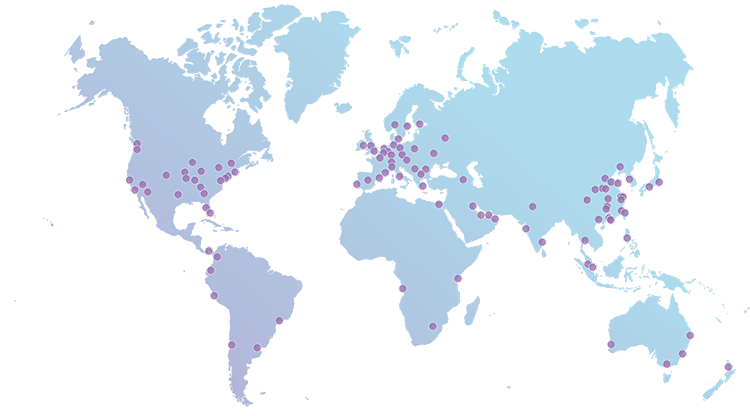 In case you're wondering, yes, we are fully aware that it's difficult to travel internationally during the current Covid-19 pandemic. This isn't something that passed us by here at Brontobytes since we do provide hosting to websites worldwide and are aware of the unfortunate situation.
At the same time, we're also fully aware of how important it is to get out of your little digital bubble and see the real world.
This doesn't mean you have to hop on an intercontinental flight and head to a country you've never been to before. There's plenty of amazing travel options right where you're currently living. And there are many websites shining a spotlight on your local travel options.
Let's take a look at four of them.
1. On The Grid
No matter which country you currently find yourself in, On The Grid is likely to have you covered. Due to the Covid crisis, this site is not currently being updated, but it's still actively promoted and remains one of the web's most comprehensive city and neighborhood guides.
Browse On The Grid's city database alphabetically or use the search feature to find a city to explore. From Aberdeen, Scotland to Zurich, Switzerland, the site covers 114 major cities and a total of 534 neighborhoods.
Each neighborhood and its surrounding areas' best destinations and activities are lovingly curated and described by some excellent local writers and photographers.
Aside from the excellent content, I love the site's layout. True to its name, it has a very gridlike UI, with the reader always aware of where they find themselves in the site's logical content architecture. Destinations like beaches, cafes, and museums are displayed both in a navigational grid, but also on an interactive map, allowing travelers to plan their journey without any hassle.
Once the reader is "inside" a neighborhood, they can also use a category filter to select the type of attraction they're after. Choose your destination from categories like restaurants, bars, cultural attractions, parks, and hotels.
2. Not a Travel Club
What Not a Travel Club lacks in terms of diversity, they make up for in content quality. The East Asia-centric site may not cover dozens of countries and drill down into specific neighborhoods with fancy UI, but what they do offer is some excellent writing.
Expect in-depth reviews of bars, events, destinations, and activities written by extremely knowledgeable locals and expats in an old-school blog format.
Not a Travel Club also supplements its travel content with some handy educational material on the practicalities of travel. Popular posts in this category include: "How to Cope with Pre-Travel Anxiety" and "How Expensive is it to Live in Taiwan Compared to Other Countries?".
So while you can look forward to articles helping you find awesome things to do where you live in Taiwan, Cambodia, and the like, you're also likely to find some very handy tips on living in these extremely foreign environments.
3. Travel Oregon
If you're fortunate enough to be "stuck" in the United States during the global pandemic, you've got thousands of amazing destinations on your doorstep. Well, maybe not on your doorstep, but, if you have the time and means, certainly within a reasonable driving distance. Especially if you're into road trips.
Several US states have dedicated travel websites, and Oregon is one of my favorites. Travel Oregon is, firstly, a beautiful site. The layout and functionality are simple and clean, and the photography is superb. Many of the visuals on the site are user-generated, with the site's Instagram account integrated with a gallery on the site's home page.
Travel Oregon's main content focuses on experiences, things to do, and various travel guides. These are expertly curated pieces of info crafted to give the visitor insight into exactly what this beautiful state has to offer. From the "Oregon Scenic Byways Driving Guide" to detailed breakdowns of coastal activities, you won't need any other resource if you're planning a trip to one of the country's most amazing destinations.
4. The Adventure Junkies
The Adventure Junkies is a travel site unlike any other. Rather than focus on a specific destination, it aims to make the outdoors more accessible to its visitors. This is an admirable and very ambitious goal and one that the Adventure Junkies succeed at tremendously well.
The Adventure Junkies' content focuses on keeping those with a taste for the great outdoors well prepared as they head off into the wilderness. They offer books on hiking gear, guides on outdoor clothing, as well as niche information like the ultimate guide to hiking for the elderly.
On top of these printed materials, which you can buy from their site, they also offer a massive online library of over 1,000 adventure guides and articles. All of these resources aim to help you equip yourself better as you take on mother nature.
No matter your level of expertise or what your outdoor activity of choice is, The Adventure Junkies has you covered. From skiing and snowboarding to freediving and underwater photography, this site has it all.
And if their library of information isn't enough, they also publish a fantastic weekly newsletter and offer members discounts on outdoor gear, adventure tours, and adventure courses.
No matter where you find yourself, if you have a taste for outdoor adventure, The Adventure Junkies is a site you need to visit. And visit frequently.
Some Final Thoughts
These are difficult times for people who love adventure. But just because we have most of our international travel options cut off, it doesn't mean we can't still experience the best that our home countries have to offer.
All it needs is a mindset change. Think of yourself as a tourist in your own backyard. I guarantee you, no matter how long you've been living where you currently find yourself, there's still plenty to do and see.
Get out there and enjoy your life!