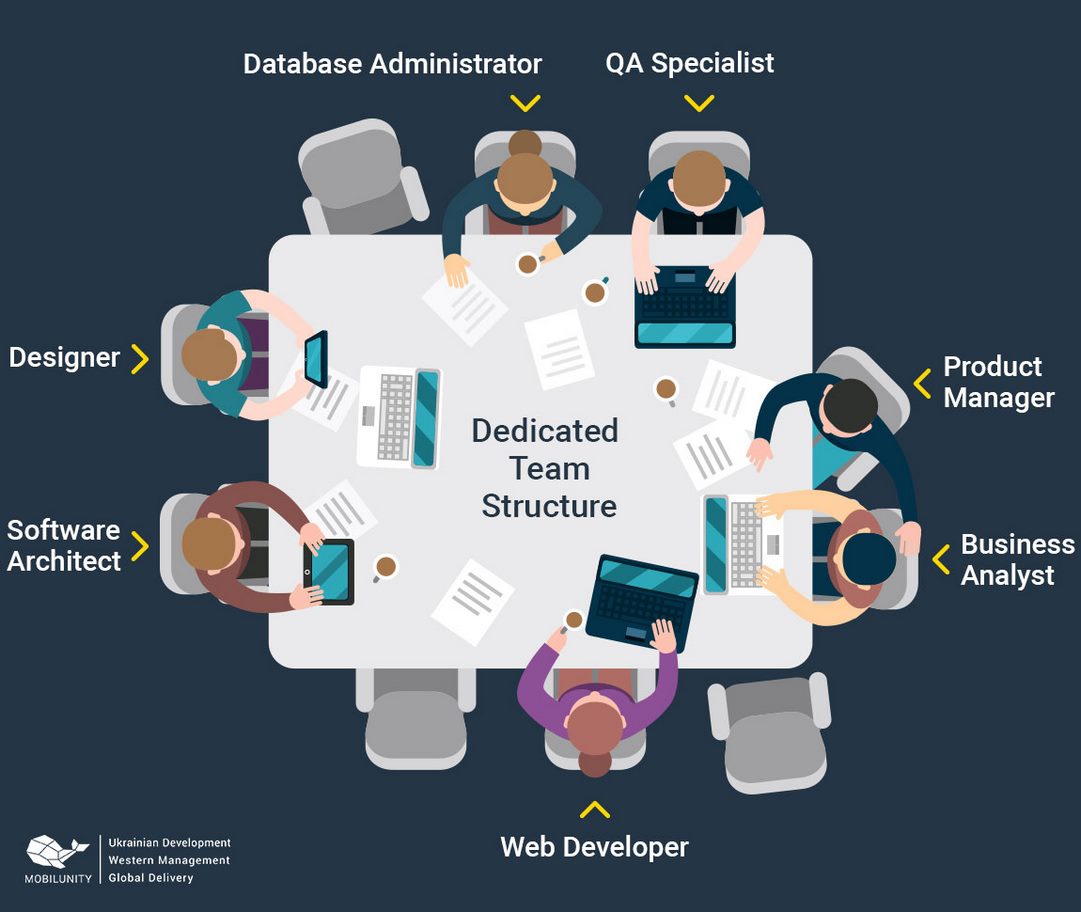 Due to preventive measures around the world, online services and mobile-friendly solutions, in particular, are experiencing a period of increased demand. This forced all the businesses around the globe to review their offline operations and work on the online presence. While some companies already had decent websites and offered goods and services online, a lot of organizations found it difficult to quickly adapt and implement existing and new techs.
These days, eCommerce is not only thriving but booming amid a pandemic. More and more people find it convenient – and even more, essential – to buy online. According to Statista, by 2022, global e-commerce revenue will increase to $6.54 trillion, up 85.27% from the $3.53 trillion recorded in 2019. No wonder that, as per Nasdaq, it is expected that by 2040, 95% of customer purchases will be made online via eCommerce sites, apps, and social media.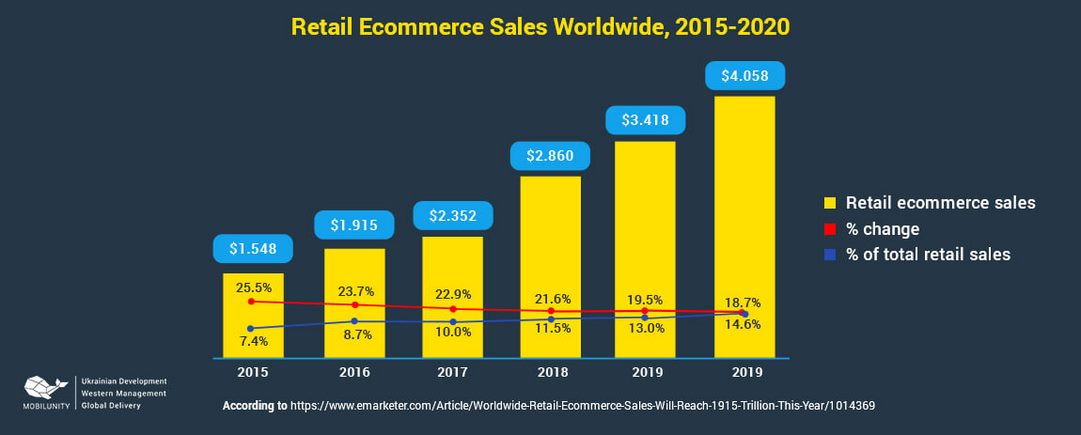 Source: https://mobilunity.com/blog/hire-ecommerce-developers/
With the demand and sales rising, as seen on Statista, the user expectations remain high, as users want to make purchases quickly, easily, and get the packages ASAP. That makes eComm businesses constantly work on developing and improving their online presence, and an easy-to-navigate website with appealing design plays a crucial role in it.
Many eCommerce businesses struggle to find web development experts and organize a proper research and development team structure that will result in the best performance of the team and, thus, the best results for the business. Let's discuss how to hire a perfect offshore dedicated team to boost your eCommerce business.
Why It Is Important to Boost Website Development for Ecomm Businesses
As more consumers realize the pros of online shopping, including same-day-delivery, comparing prices, and finding promos, this trend will most probably not die out in upcoming years. Due to this, companies have to accelerate their adaptation to modern technology much faster and learn new ways of doing business.
For many small to medium-sized retail businesses, it has become difficult to adapt to online advertising, user-friendliness of their sites, and delivery applications, so many began to look for a way to optimize and improve their solutions and offerings. The latest innovations that have already become popular for use in online business include:
According to Statista, in 2021, 53.9% of all eCommerce purchases are expected to be made through mobile devices. What's more, 52% of users that had a bad mobile experience with an eCommerce website will unlikely visit it again, as mentioned by Think with Google.
Multilingual web solutions and voice assistants.
As the world today creates opportunities to attract buyers without borders, it is worth developing website versions and voice services that recognize different languages, globalizing your sales and making it easier for customers to buy online.
Implementation of AR technologies.
Users prefer buying products online not only after judging them by the photo but also trying them on or seeing how products can fit into their interiors. AR tech brings endless possibilities to make eCommerce goods shine bright on users' screens.
To develop such innovations, besides having a fast, easy-to-navigate, modern website as a basis, you need a qualified web development team that can build the much-needed solution and easily optimize your site for any device to improve user experience. Among the available options, offshoring nearshoring comes as a cost-effective way to complement an eCommerce business' operations, helping you stay ahead of competitors and increase sales by taking advantage of the demand for online purchases.
Offshore Outsourcing: Tried-and-True Method To Complement Ecommerce Business
As mentioned before, along with the rapid growth of eCommerce, so does the demand of buyers, as well as the competition among sellers. That's why for eCommerce businesses to thrive and succeed, they need to continually deliver a top-notch consumer experience.
While business owners can concentrate on the automation of business processes and a more personalized approach to the customers, such tasks as website development and optimization are handled by dedicated development teams.
The thing is, dedicated developer salary rates may appear too high for small and medium-sized eCommerce businesses, drawing them from web development services, which results in dramatically decreasing sales. However, there's an optimal solution for companies that need a high-end website at an affordable cost called offshore outsourcing.
Offshore team cost can be twice lower than hiring a local web development team, and there's a wide availability of professionals who provide quick and quality web solutions globally. Let's take a closer look at what IT experts an eCommerce business may need and how to hire and form the right development team to meet your business needs.
Building Perfect Research and Development Team Structure
To build a dream squad of IT experts, you first need to set goals for your eCommerce business and online performance, in particular. For instance, if you need a mobile app or want to implement an AI chatbot, you will need the corresponding developers in your team.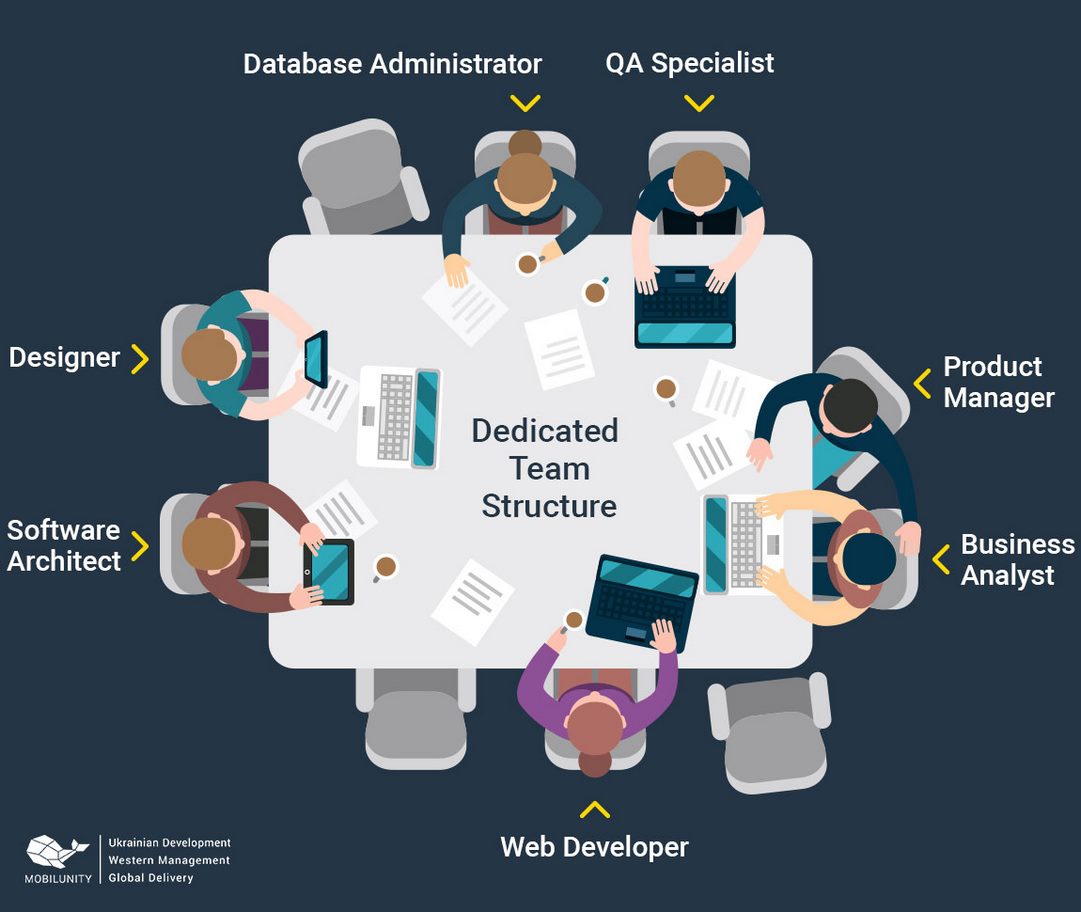 Source: https://mobilunity.com/blog/hire-dedicated-development-team-in-ukraine/
Here is the most classic software development team structure to consider:
The project manager is the key figure that helps you get rid of the risk of disorganized processes and wasted resources. They are the communication bridge between you and the team and help to make sure the project goals are met in the best way and timely manner.
This specialist takes care of the user experience with your website or application and works on the visual part of your site. Everything your client sees on the site from buttons to animations is created by the front-end developer. Besides, they also optimize the look of your site on various devices, so that the user can equally easily purchase from iPhone and Google Chrome.
Without a beautiful interface, you are unlikely to attract new and regular customers, especially among young people. Therefore, it is worth finding an expert who can create a stylish and comfortable journey for users through your online store. While a front-end developer is more on the technical side, a product designer is needed if you have a large-scale eComm project that requires advanced design.
This expert takes care of the service side of the website, ensuring the security and stability of the site and smooth browsing and buying workflows for site visitors. A back-end developer creates the platform's architecture, works with databases, connects payment options, and implements third-party integrations if needed.
A DevOps engineer works on unification and automation of processes within the development team, combining the code knowledge, web solution maintenance, and application management. For big eCommerce projects and large teams, just a project manager won't be able to handle everything, and DevOps is needed.
Keeping in mind this research and development team structure, you can hire the right experts and get a dream team working on your website and boosting your eCommerce performance.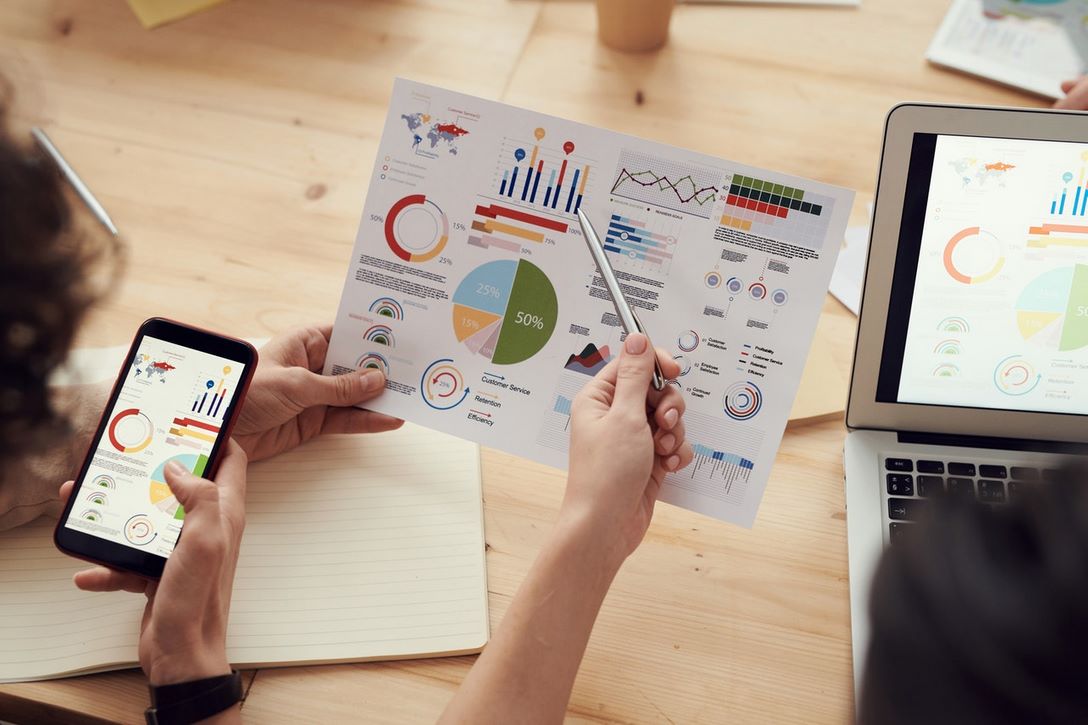 Photo by fauxels
Final Remarks
The right web development team can help you achieve quick success on the eCommerce market and stand out from the competition, thanks to a high-performing website that meets the users' needs. That's why it is beneficial to hire a highly qualified experienced offshore software development team to build a top-notch website for your eCommerce business.