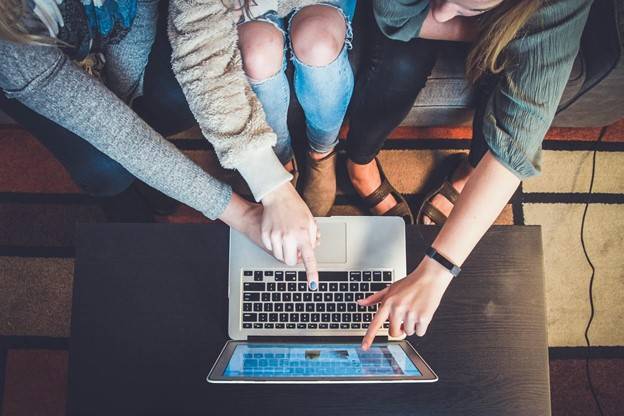 Countless websites are utilizing digital marketing to attract and convert customers. As it is now more the norm and less the exception, every little bit of website design becomes more and more important. Some of the business owners are even hiring reliable app development companies to help them create their own mobile applications, in addition to their websites.
The number of individuals who have become dependent on technology when making decisions is also the reason why businesses choose to invest in a B2B web design agency to improve their online presence. But, the success of your digital marketing campaign doesn't solely rely on how functional or appealing your website is; your website should also strive to gain trust among customers.
In this post, we will be looking at an incredibly valuable aspect of web design: trust. If a customer feels they can't trust your website, all the advanced marketing strategies won't be able to help you, and your conversions will stay in single digits.
Here are five ways you can inspire trust on your website:
Add Trust Badges
A trust badge will help you highlight important and trustworthy information about your company very effectively.
Whether you offer a product guarantee, free shipping or free returns, or guarantee customer satisfaction in any way, this fact should be clearly stated and highlighted. You can also add a safe checkout, accepted payment, or a money-back guarantee badge.
Having badges displayed on your website can speak volumes about the legitimacy and trustworthiness of your business. This will also give customers an idea on how your business can provide value to their money.
It's often best to use visuals to bring this important information into focus. The words themselves might get lost in the noise, while a visual will usually catch a visitor's eye.
List Reviews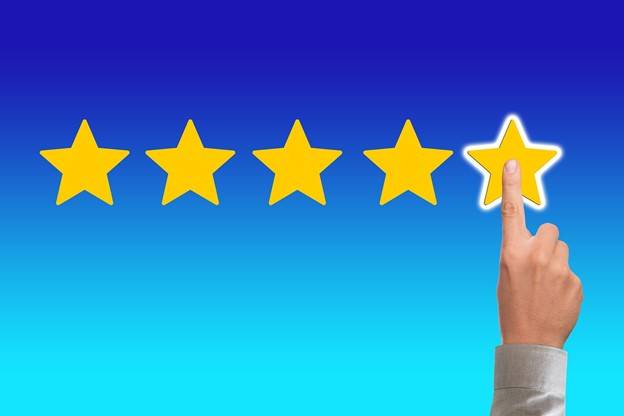 Reviews are often one of the most trusted elements on a website. Although they can be faked, most websites' reviews will be genuine and come from honest users who have actually had contact with the brand.
What makes reviews so trust-inspiring is the fact that they are written by your target audience – people similar to the ones now browsing your website. These people have no agenda to push. They are here to help someone else learn what to expect from a product or service.
That's why you'll definitely want to encourage your previous customers and clients to leave you reviews. You can do this via email after their order has arrived or the service has been completed.
If you want to showcase reviews from previous customers and clients, make sure to add their photos to their statements. These pictures will give more authenticity to the reviews because people can actually see who made them.
List Testimonials
Similarly to reviews, testimonials are a great way to work up some trust.
While reviews pertain to specific products or services, testimonials speak about the entire experience of working with you and your brand, the solutions you have provided, and how your product or service has helped someone solve an issue.
You will have to solicit these yourself and ask satisfied customers to write a brief blurb about you. Try to edit them as little as possible (only edit typos, spelling, and confusing grammar errors). Let your customers speak in their own voice.
Try to aim for testimonials coming from your most targeted audience segment, as people are more likely to trust those that are similar to them.
The testimonials of your previous customers and clients should be highlighted in the main landing page of your website. This way, online users can easily access the information and give them an idea of what to expect from your business.
List Your Customers
If you work in B2B, the brands you work with will help you establish some further trust.
Sometimes, just knowing that you have worked with a large brand will help inspire trust in a visitor. In fact, it doesn't even have to be a large brand, but any business that exists in the real world and has its own online presence that can easily be verified. Your ability to list customers will make it easier for online users to trust your brand because they'll know that you already provided products and services to other businesses.
Of course, if you are a brand new business, you will need to be patient for a while and wait to acquire a few clients you can share on the website. This means that you still have to exert a lot of effort to gain deals from other businesses and have their names posted on your website.
Listing logos usually works well, but if you've worked on specific campaigns and there's data you can share to illustrate your expertise, you can also do a case study.
List Your Payment Methods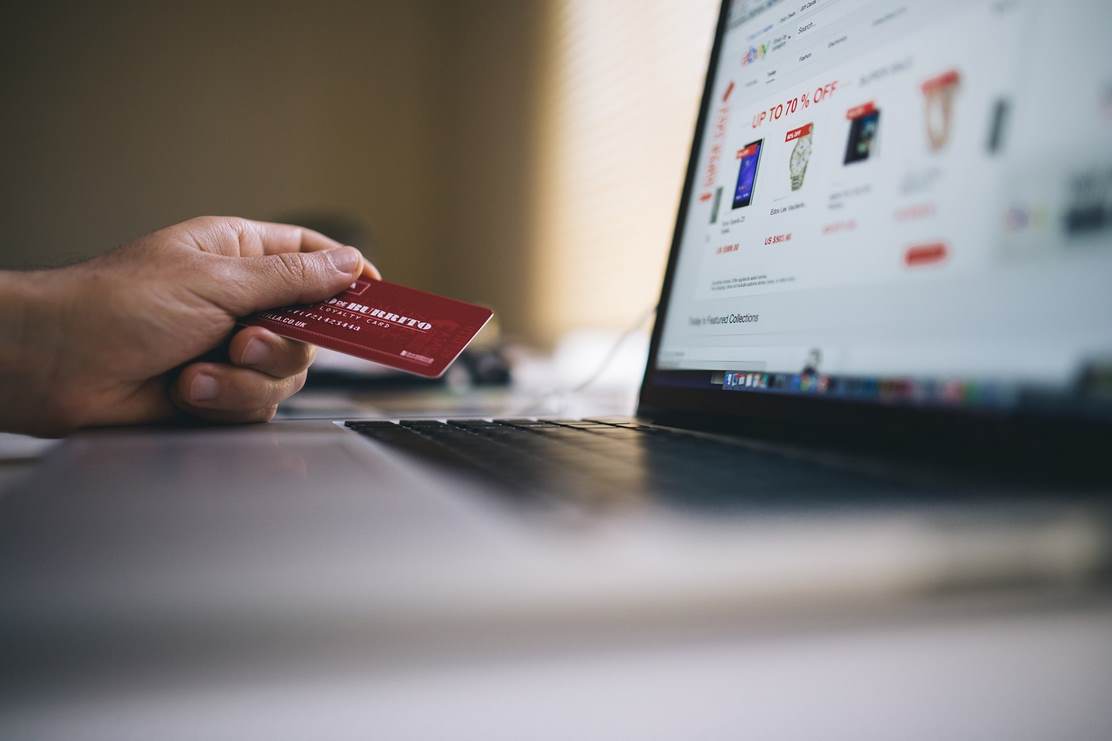 If you accept credit card payments, ensuring your customer knows they are safe on your website is crucial. Credit card fraud and identity theft are common and rational fears in the digital world, so doing your best to display security badges, trusted payment method logos, and other trust signals can be a great asset.
Start by offering as many payment methods as you can. People prefer to use different clients, so the more choice they have, the better.
Make sure you also clearly outline what it is you do to keep your customers' data safe (and actually do it). Knowing what your security measures are can help people feel more at ease when shopping with you.
Pay special attention to your safety and confidentiality measures, as they are often what plagues most people's minds when engaging with a new company online.
Online shopping is very convenient, but not everyone loves to pay for products and services through the Internet as they fear that their credit card information or identity will be stolen. Ensure online users that this will never happen when they choose to do business on your website by making your payment methods secure.
An Example to Illustrate Trust
Let's illustrate all these points using an actual business website.
A business like Mannequin Mall provides an excellent example because they operate both B2B and B2C, and they've taken all their audience segments into consideration when providing social proof. They've incorporated more than one trust signal on their website: reviews, testimonials, customer logos, payment logos, and even a Shopping Guarantee button in the bottom left corner.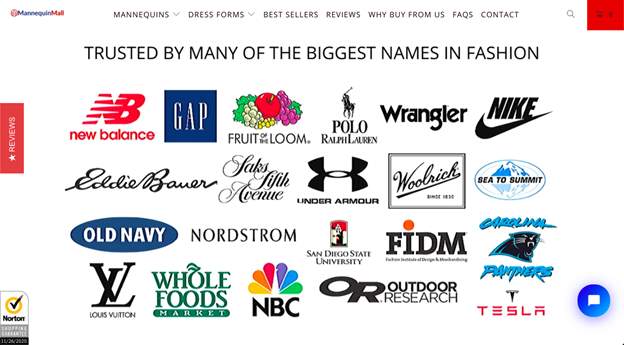 Source: mannequinmall.com
Take note of how all these different elements can be incorporated in a single page without it sounding too much like you are showing off.
Final Words
While it will take some time to compile all these trust signals, be patient. If you notice your conversions are not particularly improving after adding them, try doing an A/B test to determine whether different layouts or different wording might work better.
Inspiring trust on your website can take a lot of time, so make sure that you regularly audit your efforts to determine which strategies to retain or remove.