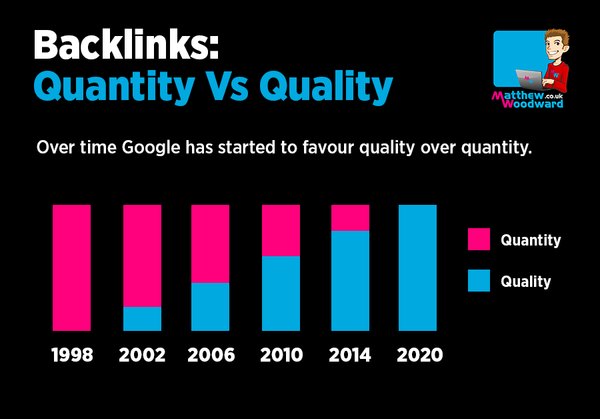 Whether you are starting a blog or an e-commerce store it all comes down to building a solid technical foundation, using intelligent keyword research, and optimizing your content correctly.
But there's one more piece to the puzzle:
And that's link building.
Without link building, you'll find it very hard to compete.
This article will show you why you need to start link building and how to build trustworthy and reliable links.
Sound good? Great, let's get started!
What Is Link Building And Why Does Your Online Business Need It?
Link building is the art of getting one site to link to yours using a hyperlink… but why is it important?
Well, the easiest way to think of links is like a vote. The more votes pointing to your page, the more likely Google is to deem the content worthy of first page status.
Google has been using the backlink algorithm since 1998 and we have seen quite a few updates to it since then.
There used to be a time where you could spam links anywhere, and it would benefit your site.
This technique no longer works; Google would rather see ten quality links than one hundred spammy links.
And it's not just Google that likes links.
You see:
Humans also see a link as an endorsement that the page they are going to is recommended by the referring site and will have the information they need.
That means if a person clicks through to your site from a place they trust, they will automatically trust your site. Pretty cool, eh?
Link Building Strategies
To build a powerful website that ranks, you need a powerful backlink profile. The problem is this can be time-consuming and very challenging to build.
But, with the right strategies, link building doesn't have to be as strenuous as people think; in fact, it can be pretty easy.
Let's take a look at some of the top link building strategies:
Competitor Backlink Analysis
This is the best link building strategy, especially if you're on a small budget.
Think about it:
How much money do you think your competitors are spending on developing their backlink profile?
It's probably quite a lot, right?
Well, instead of wasting a lot of time and money trying to build links blindly, why not work a little bit smarter and see how your competitors and building their links and then replicate them.
All you need is Ahrefs; this tool will unlock all the valuable backlink data your competitors wish you couldn't see.
The best thing about this strategy is it's super easy to implement; all you have to do is:
Find Your Competitors
This is the easiest step of them all. You probably already know who your competitors are. But if you don't, they are effortless to find.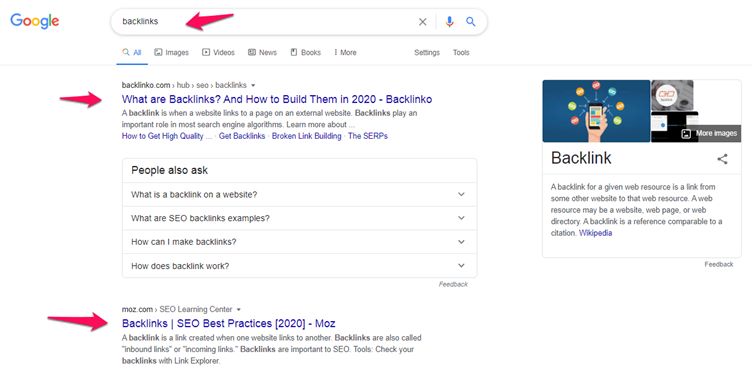 Search for your chosen keyword in the Google search bar. The top results are your competitors, make a list of them and move to the next step!
Find Their Backlinks
Now you have a list of your competitors; it's time to find out which backlinks are helping them rank higher in the SERPs.
You'll need a tool like Ahrefs. For each domain, you need to run it through Ahrefs site explorer. Click on the backlink tab and export all the data onto a spreadsheet.
Qualify The Links
Once you have a list of all the backlinks pointing to your competitors, it's time to qualify the links to see if they are worth stealing.
To do this, you'll have to open each link to check it's relevance and make sure it's not a spam network.
Ideally, you're looking for a site with high domain authority (DA) and has topics relevant to the content you're writing. You can use filters to make this process much quicker.
Then once you have a target list of websites and a strategy in which to build each link, there's nothing left to do other than… go get em.
Guest Posting
Guest posting has become one of the most popular link building strategies, mainly because of its easy but effective nature.
The thing is:
It's not a risk-free strategy; Google has been warning people about guest blogging since 2017.
In the end, Google wants to see links that don't look like they've been spammed left, right, and center.
And that's the beauty with guest posting, you see:
You have total control of the anchor text that's being used and where it's being placed, so it doesn't look like a spam bank post.
Here's how guest posting works:
Find Your Targets
The first thing you need to do is find sites that one, accepts guest posts, and two is a website that's relevant to the topic you want to talk about.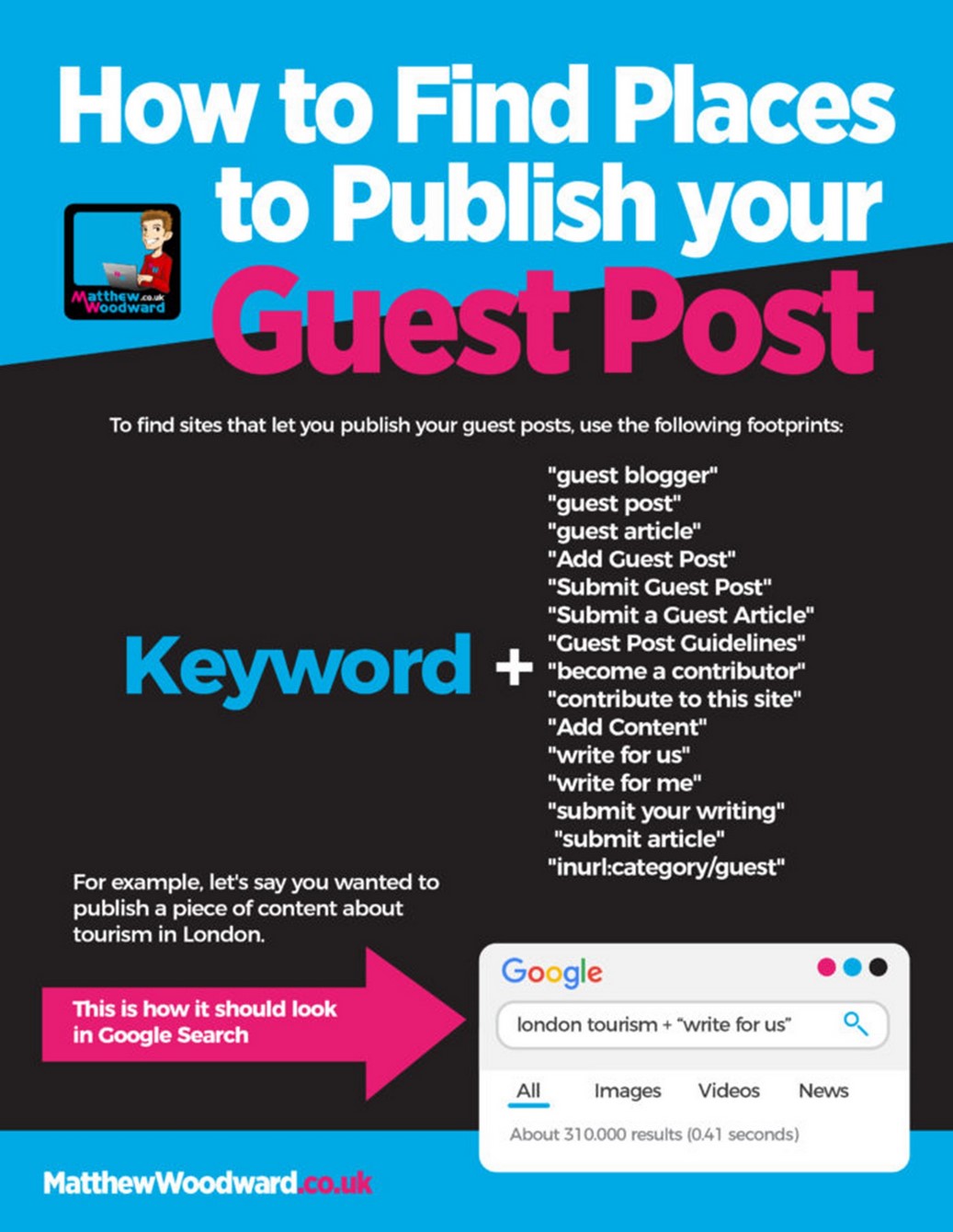 This is actually a pretty easy process; perform a quick google search for things like:
Keyword + guest post
Keyword + add content
Keyword + write for me
This search should reveal a wealth of websites that accept guest posts relating to your keyword.
Start opening tabs, and have a look around the sites, ask yourself, is this relevant to my blog?
Pitch Your Idea
For all the sites you find, you are going to need to pitch your idea. But before doing this, you will need to find the right contact details:
Both of these tools make it super easy to find the right contact details for the site you want a link from.
Once you have their contact details, it's time to pitch your idea to them.
The most important thing to remember here is to make sure the pitch is unique and shows value to them.
Don't worry if they don't reply the first time. Mailboxes fill up quickly, you've probably just been pushed to the bottom of the pile. Send a follow-up email a few days later, you'll be surprised how many people respond.
If they don't reply after the third message, move on to the next target on your list.
Podcast Jacking
Podcast jacking is excellent for building links, but it also introduces your blog to an entirely new audience, which is precisely what we want.
Now, this strategy aims more at people who already have a name for themselves in their niche of choice.
You need to reach out to websites that host a podcast in your niche. The whole process is pretty similar to the strategy above, with just a few subtle differences.
Let's take a look:
Find Relevant Podcasts
Podcast jacking relies on you finding the right targets for the job. To find them, you can use a similar technique as with guest posting.
You need to use Google search commands to find relevant podcasts:
"Keyword/phrase" inurl:podcast
This will generate a list of potential podcasts that talk about your chosen keyword.
Once you've found a list of podcasts, you need to find their contact details as discussed int he previous strategy.
Pitching
Podcast hosts will be getting many emails from people who want to be featured on their podcasts, which is why you need to stand out.
You can use templates, but make sure you edit them beforehand; the last thing you want is to send a generic email.
Produce And Share The Podcast
Once you've got the reply, you can arrange a time and date to suit you both. The host will usually give you a list of topics that are going to be covered.
Make sure you're prepared for every question and have your equipment tested and working well.
If you're nervous or mess up, don't worry too much, most of them are pre-recorded and can be edited later on.
Once everything's done, don't forget to share the show.
That's A Wrap
Remember, to get your content ranking, you need to use link building strategies. Without building links you're unlikely to get past the second page.
Links work as votes of approval, but they have to be relevant. If they're not, they could cause you more harm than good.
Using the three strategies above doesn't just take the headache out of building a backlink profile, but it also makes things a lot cheaper.
Are you looking for more strategies? Check em out here!