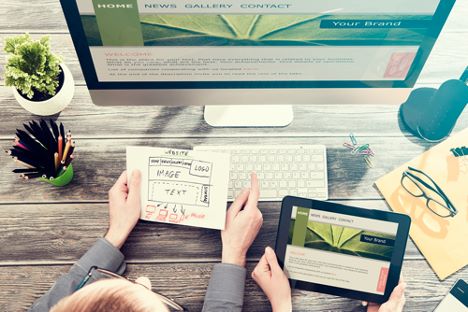 Do your website visitors leave because they can't find the information they want?
You may rank well in Google, even reaching the top spot, but if users enter your site then leave within minutes because of a poor experience, something needs to change.
This article examines why website information architecture (IA) is key to a good user experience.
We ask what website IA is and how it should remain at the core of user's experience (UX), and how information architects with a proven record will benefit your digital marketing strategy.
Read on to discover how implementing IA into your web pages will engage your visitors, allowing you to turn those browsers into paying customers.
What Is Website Information Architecture?
Website information architecture describes how content is structured and accessed.
It's a key component of a UX as it helps them find and process the information they want to view. By bringing content, context, and users together, this information ecology offers the best way to access data.
Information Architecture Principles
IA is not just about navigation menus. However, it's a system that aims to let your visitors find what they want and discover something new. Thankfully, IA's agreed set of principles help developers keep their designs in check.
For example, ensuring the user isn't overwhelmed by choice (principle of Selection) gives value to every option. The principle of Disclosure recognises that people have a limited capacity to process what they see.
Other principles highlight that navigating web pages doesn't always start on the home page.
Web development teams need to ensure that a user can enter from any page without becoming confused. They should also give visual examples of what lies within a link, like a product category.
IA in UX Web Design
You've probably visited sites where nothing makes sense, such as every link you visit changes the design of the site and content doesn't match the headings. The result is that you give up in frustration.
The good news is that the emergence of information architecture adoption has led to certain industry standards. They're composed of four main components:
Organization Structures – categorising information
Labelling – how to present information
Navigation – browsing information
Search – finding or filtering information
All types and sizes of businesses now see the need to follow these practices.
With the rise of machine learning, enterprises now realise that their content needs a proper structure. Smaller companies are also rethinking their data strategy to engage better with their customers.
A site that offers a great UX takes note of how to best present information. Otherwise, the experience mirrors a library where all the books have fallen to the floor!
Implementing Correct Information Architecture
Daniel Florio at Pixelstorm says "The benefits of correctly implementing website information architecture can't be underestimated.
Google will rank you higher in their search listings as information becomes easier to crawl. This will lead to more targeted visitors eager to discover what you sell and do. Customers will remain for longer and share your content with their friends through social media.
Implementing IA web design also provides scalable websites. It's easy to add content to a well-designed structure that can grow with your site."
Websites and Information Architects
It sounds obvious but website information architecture requires an architect.
This person or team understands the full list of principles behind IA and how they work with UX. They should have a proven track record with evidence showing a reduction in bounce rates. And their clients will see a spike in traffic as their Google SEO improves.
When implementing information architecture into your site, be sure to hire the experts.
Like building a house with the wrong blueprints, you don't want your website to crash down around you.