How much disk space and bandwidth will my plan include?
There are no set limits on the disk space or bandwidth that we provide in our web hosting plans. We want you to have the resources you need to build a great online presence, and 99% of all customers will have more than enough disk space and bandwidth to meet their needs.
That being said, we do require all customers to be fully compliant with our Terms and Conditions and utilize disk space and bandwidth in the normal operation of a personal or small business website. While it is rare, we may need to put constraints on accounts that are using resources beyond what would be expected in the normal operation of a personal or small business website.
Typically, customers only run into issues if they use their accounts for storage or file sharing, which is not what our services are intended to support. In accordance with our Terms and Conditions the disk space and bandwidth you use must be integrated into the normal operation of your website.
How do you determine "normal" operation for web hosting plans?
We regularly run customer bandwidth and disk space utilization through a series of statistical analyses and use the results of these studies to define normal. Although the actual results of these analyses vary from month to month, one thing remains constant: 99% of our customers fall into "normal" range. Typically, customers who fall outside the normal range are using their accounts for file storage or sharing rather than web hosting.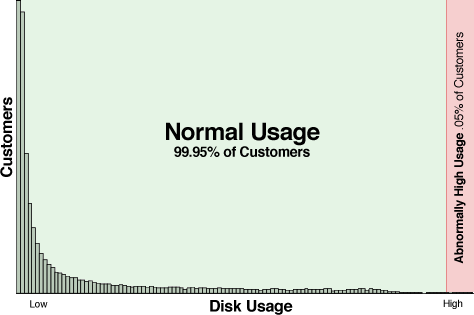 If you have a question about whether your website will fall into the normal range, feel free to contact our sales team. We'll be happy to talk about your specific needs before you purchase your web hosting plan.
What happens if I exceed "normal" usage?
If we have concerns about your account's bandwidth or disk space utilization, you will receive an email asking you to reduce usage. Generally, we provide customers with a minimum of 72 business hours to make adjustments or upgrade to VPS hosting, or we may restrict the resources your website is using.
Again, the most common situations involve customers who use their accounts for storage of files, particularly multimedia files, that are not linked off of their websites. It is very rare for a customer who is managing a personal or small business website to exceed normal usage.